Visit www.psdathletics.org/kinard and click the Football Tab for season details and registration information!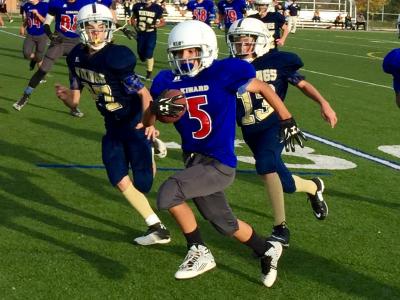 Season Duration:
8/15/22 - 10/11/22
Daily Practice Times:
Monday - Friday 3:30 - 5:30 pm
General Information
Football is a no-cut sport for 7th and 8th-grade students. We will field combined grade level varsity and junior varsity teams.  Each athlete needs to provide football cleats and a mouthpiece (clear and white-colored mouthpieces are not allowed).  All other helmets, pads, and uniforms are provided for use for the duration of the season.  All participating athletes must be currently enrolled at Kinard and are required to complete the registration process and pay the participation fee prior to joining the team.  Please notify coaches of any medical needs that are specific to your child prior to the start of the season (i.e. asthma, etc.).  
Summer & Pre-Season Activities



Mini-Camp:

Football mini-camp will start Monday, August 8th from 3:30-5:30 and will take place everyday that week.  We plan on issuing helmets and lockers on Monday, so please send your child with a combination lock on Monday.