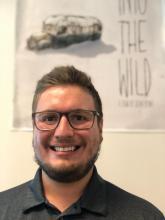 Role
7th Grade English
Technology
About Me
Education and Professional Background:
This will be Mr. Yacobucci's first year teaching English at Kinard Core Knowledge Middle School. As a Kinard alum, he is excited to be back in the school that gave him a strong academic foundation. He earned his bachelor's degree in English Education at Colorado State University. After a semester of substitute teaching in PSD, he taught 6th, 7th, and 8th grade English Language Arts at Preston Middle School for 4 years.
Personal Interests and Hobbies:
Born and raised in Colorado, Mr. Yacobucci appreciates the natural beauty that surrounds him. He is married to a wonderful wife and has the world's sweetest dog. His interests and hobbies are constantly changing and evolving, but the reason he is passionate about them remains the same: They immerse him in the experience of learning. Yacobucci enjoys mountain biking, fishing, cooking, and home projects. The process of researching, experimenting, learning, and mastering various skills and techniques is a huge part of what drives him.