The Value of Organized Team Sports for Youth
Participating in youth athletics can teach values and lessons that student athletes can use in their teenage years and throughout their life.   Coaches, teachers, and parents are key influencers when it comes to  providing mentorship and building positive character through sports.  An effective and positive athletic program should build life-long lessons and skills for our student-athletes, including:
Discipline
Hard Work
Sacrifice
Teamwork

Dealing with Success and Failure
Setting and Striving for Goals
Value of Practice and Preparation.
Overcoming Adversity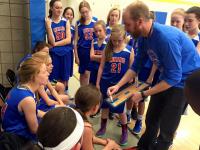 At Kinard, we strive to win without making it our primary focus.  The athletic program complements the academic program by emphasizing the importance of work ethic, sportsmanship, and competing with character.  We define success according to the legendary Coach John Wooden. 
"Success is peace of mind, which is a direct result of self-satisfaction in knowing you made the effort to do your best to become the best that you are capable of becoming."  
Most importantly, we expect our athletes and parents to represent our Kinard Community with character and class in an effort to live up to the legacy of our school's namesake, Hal Kinard.  
Kinard Athletic Website:
Fall Sports
 

 

 

 

 

 

6th | 7th | 8th
 

7th | 8th
 

6th | 7th | 8th

 

7th | 8th
 
Winter Sports
 

 

 

 

 

 

7th | 8th ​

7th | 8th ​

6th | 7th | 8th ​
Spring Sports
 

 

   

 

 

   

 

 

6th | 7th | 8th
 

7th | 8th

 

6th | 7th | 8th
 

 

 
Athletic Directory