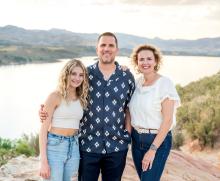 About Me
Heather Julian is the Health Technician at Kinard Core Knowledge Middle School. She actually joined Kinard for one semester as the Attendance Clerk in 2005 before giving birth to her daughter. Heather took a leave to stay at home with her daughter and in January 2013, returned to Kinard as the Health Tech.
Heather was born in North Dakota and raised in North Dakota, California, and Colorado. She has lived in Northern Colorado for over 25 years.
When Heather is not at work she enjoys walking, Pinterest, music, reading, hiking, traveling, photography, and spending time with her extended family that is all over the United States. Her husband Doug also works in Poudre School District and their daughter attends high school in PSD; all while their miniature schnauzer spends her school days sleeping.