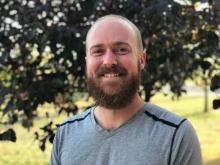 About Me
Bradford Lardner is in his tenth year of teaching at Kinard, and he's very excited to be here. Bradford teaches 7th grade technology, as well as Entrepreneurship, Kinard CARES and Environmental Leadership, and he is a golf coach for Kinard.
Bradford was born in Albuquerque, NM, and moved to Fort Collins to attend Colorado State University, where he obtained a bachelor's degree in English, with a concentration in education in 2013. He also received his Master's Degree in education through the University of Colorado in 2021. At CSU, Bradford met his wife Alex, and they were married on October 12th, 2013. Alex works as the Communications Director at Habitat for Humanity of Fort Collins, and both of them are enthusiastically invested in the future of this wonderful community.
In his spare time, Bradford loves to shop and eat in Old Town, Fort Collins, and loves the bicycle scene of Fort Collins. He also loves to read and a few of his favorite books are Animal Farm, 1984, Hatchet, Lord of the Rings, The Book Thief, Catch-22, Ender's Game, To Kill a Mockingbird, Ready Player 1, and Woe is I. Bradford also loves cooking, fly fishing, traveling, hiking, basketball, golf, and playing with his dog Scout.
At any point in class, you'll find the kids in Bradford's class engaged with one another, and not only learning technologically academic skills, but social skills as well. Bradford's mantra in the classroom is to always take the content seriously, but never to take himself seriously. One of his greatest joys is making his students laugh while they learn.