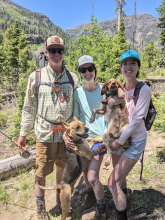 About Me
Education and Professional Background:
Amanda Moerbe has been an English Language Acquisition-Spanish teacher for the past four years in Denver and this will be her first year at Kinard Core Knowledge Middle School. She graduated from Texas A&M University with a Bachelor of Science in Bilingual Education in 2018 and moved to Denver shortly after where she taught as an ELA-S 5th grade teacher and served as the Biliteracy Content Lead for an ECE-8th grade school. Amanda recently moved to the Fort Collins area and is very excited to have the opportunity to join the incredible Kinard family as a Spanish 1A and 1B teacher for 6th-8th grade!
Personal Interests and Hobbies:
Amanda loves spending time with her family; which include an identical twin sister that lives in Montana, an older brother that lives in Denver and parents in Pagosa Springs. Some of her favorite hobbies include hiking, fly fishing, gardening, cooking and going to concerts. She is so excited to get to know her students and families at Kinard this year and share her love of Spanish with them!