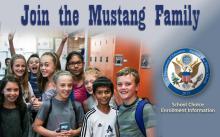 PSD's School Choice program allows families to select the school that best meets their child's educational needs based on space availability and eligibility requirements. A school choice application is required to attend a school that is not a student's neighborhood school or to attend a choice only school.
There have been significant changes made to the school choice process for the 2022-2023. Most importantly, the first-round application period is anticipated to open around 8 a.m., Tuesday, November 1, and will close at 11:59 p.m., Thursday, December 15. The first-round lottery will occur and seat offers will be made shortly after winter break (January 2023).
At Kinard, we believe that a positive middle school experience is created with a focus on the whole child. We are committed to a culture that ensures a high level of learning for all, where students feel engaged, supported, and challenged. We hope our upcoming events will foster a healthy transition to middle school for your child and help you learn more about our school.
If you are interested in learning more about Kinard as an option for your middle school experience, please join us on Thursday, December 1, 2022 from 6:00-8:30 p.m. for our Incoming 6th Grade Family Night at Kinard. This evening is designed for parents and 5th grade students to learn about Kinard's curriculum, culture, and overall student experience.
We are also hosting Friday Talk and Tours for parents to learn more about our state-of-the-art facility and to observe a school day in action. We invite parents to meet our administration team for a brief presentation and to tour our school. Sign up here to attend one of the upcoming Friday Talk and Tours.
Friday, 11/18 9:00- 10:30 a.m.

Friday, 12/9 9:00-10:30 a.m.
Additionally, we have a limited number of Student Shadow Opportunities in December, where 5th grade students can experience a morning in the life of a Kinard middle schooler. Due to the limited number of spaces for student shadows, we ask that only students who are still undecided about their middle school selection sign up. Please sign up here for your child to participate in a student shadow opportunity.
In PSD, "option schools" do not have neighborhood boundaries, instead student enrollment is determined by the PSD School Choice policy. Information about the 2023-24 school choice timeline and process can be found on the PSD School Choice Website. All families who would like for their child to attend Kinard must apply through the school choice process.
For questions about enrollment, registration, or anything related to attending Kinard Core Knowledge Middle School, please contact our school counselors:
For more information about enrollment at Kinard, visit our website. You can also follow us on social media for additional updates and information: Facebook or Instagram.
Thank you,
Kinard Core Knowledge Middle School