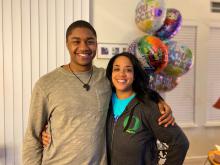 Role
Integrated Services - Multicategorical
About Me
Ansley Garnett is an Integrated Services teacher in the Multicategorical program, and this is her 15th year as a Mustang. Ansley received her Bachelors of Arts in Sociology and her Master's Degree in Special Education. She played college volleyball, and coached high school, club and middle school volleyball for 16 years. Building relationships with students in an educational or athletic setting brightens her day.
Ansley has an amazing son, Tre, who graduated from the University of Oregon December 2020 - Go Ducks! After graduation, he received a Doctoral Fellowship from the University of California - Riverside, and in the fall of 2021, he moved to California to continue his education goals. Tre is in the 2nd year of his Master's/PhD. program in Political Science and enjoying the opportunity to be a Graduate Assistant in their Political Science Department.
In her spare time, she enjoys spending time with family and friends, reading, listening to live music, and watching sports. Being born in Pittsburgh and raised in Texas, she will cheer for the Texas Longhorns on Saturday and the Pittsburgh Steelers on Sunday. And having family from Hawaii, Ansley loves being near the ocean.
Working at Kinard has been a privilege these last 15 years. The administration, staff, students, and community are truly one of a kind. Our school's vision is to ensure high levels of learning for all students - and we mean all. From the words of Mr. Hal Kinard, "We can, and we will."