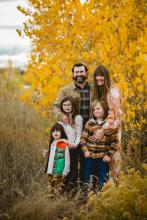 About Me
Education and Professional Background:
Jillian is entering her sixth year of teaching at Kinard Middle School. She previously spent 5 years teaching Spanish at Kinard, before taking off 9 years to spend time with her 3 young children. She is so happy to return to a school and community that she holds near and dear to her heart. Jillian will be teaching Creative Foods & Sewing and Spanish 1A this year. Prior to teaching, Jillian graduated from Colorado State University with a degree in Spanish Education. Jillian is thrilled to share her love of the Spanish language and culture with her Spanish students and her love of cooking and sewing with her CFS students.

Personal Interests and Hobbies:
Outside of school, Jillian enjoys spending time with her family. She and her husband, Jim, have 3 children, Elsie, Porter and Hollis. Outside of school, Jillian enjoys traveling, reading, cooking, live music, snowboarding and hiking.