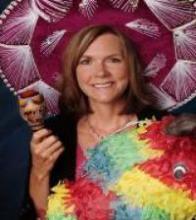 About Me
Leslie Husted is a Spanish teacher at Kinard Core Knowledge Middle School. Leslie is the staff monitor for Fellowship of Christian Teens/Athletes (FCT/FCA). She has been a Mustang for eleven years, but has been an educator for 15 years. Before coming to Kinard, Leslie's professional experience started in West Union, Iowa. She continued on to teach at West Des Moines Dowling High School and later Thompson Valley High School.
Leslie received her BA degree in Spanish from Iowa State University. She has also earned her Master's degree from University of Northern Iowa in Spanish Literature. Leslie studied three summers in Spain, living with local families each time. This overseas experience truly deepened her love of the language and culture.
Outside of school, Leslie enjoys spending time with her family. She has been married to her incredible husband, Bob, for 25 years. They have three amazing children: Emily, a math teacher in Parker, CO; Kate a recent graduate of Grand Canyon University, and Cole a junior at Fossil Ridge High School.
When Leslie is not teaching, she loves to take walks, read, cook and shop. Some of her favorite things to do are: travel with her family, paddle board at the lake, play cards, and have "family pizza and movie night".
Leslie wanted to be a teacher because she loves to encourage others. She strives to motivate her students and build their confidence in learning a new language. Fun fact: Her mom was her Spanish teacher in high school and that may have had a little to do with her decision to become a teacher.
About My Classroom
My goal is to have high student engagement, focus and participation while learning a new language. In the early stages of second language learning, they will be listening a lot, taking it all in, and processing what they are hearing. The speaking will come slowly, but they will get it!