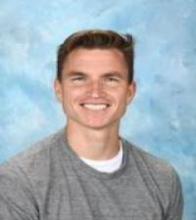 Role
6th Grade Science
6th Grade History
About Me
Education and Professional Background:
Mr. Rollings loves teaching History and Science and has been teaching 6th graders since 2014. He has a History and Philosophy degree from San Francisco State University and completed his teaching certificate at San Jose State University. In the time between his undergrad and teacher certification, he joined the Peace Corps for 4 years in Madagascar and Ethiopia and worked at a Homeless Shelter. He has a insatiable curiosity for the people and things of this world we all share.
Personal Interests and Hobbies:
His love and passion in life are distributed as follows: Family (wife Megan, two kids Cal and Lorelai, and Newfoundland Dog Nana), playing soccer, watching Liverpool FC, visiting museums, listening to and playing music, long walks (sometimes in the mountains), snowboarding, history, science, documentaries, meditating, stretching, thinking deep thoughts, bonsai trees, Golden State Warriors, thought experiments, personal reflection, and... of course, teaching!