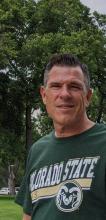 About Me
Education and Background
Greg Vizzini will be in his first year of teaching at KINARD Core Knowledge Middle School. Before moving to Northern Colorado, he taught art classes at both the middle and high school levels in Southern California where he also grew up and attended college. He graduated from BIOLA University with a degree in art, California State University, Long Beach with a Credential to teach art, and California Baptist University with a M.Ed. He is thrilled to now live and work in NOCO with his wife Kerry who will be teaching at Collins High School. His oldest daughter lives in Ohio. His son lives in Colorado Springs, and his youngest daughter lives in Fort Collins where she is attending CSU. While Greg has already had many great years of teaching art in California, he believes that as Mustang, the best is yet to come!
Personal Interest and Hobbies
From his earliest years of school, Greg loved drawing cartoons and wanted to be a comedian. His love of Art and creating things continued to grow during middle school where he took art and shop classes. In high school and college, he had part-time jobs where he worked with wood. In high school and college, he pursued art classes and was on the cross country and track teams. His experiences in art and athletics during the high school years inspired his decision to pursue a career in education. In addition to all the above, Greg loves cycling and will hopefully be back in the saddle this fall.