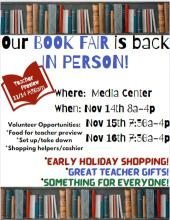 Get Ready! The Scholastic Book Fair is coming our way! Choosing their own books empowers kids and inspires them to become Bolder, Prouder, and Stronger Readers. In addition, every book students buy earns rewards for our school.
Our in-person Book Fair will take place from November 14-16 in the Kinard Media Center. The hours for students will be from 8:00 - 4:00 daily. Families can also attend on Tuesday and Wednesday from 7:30 - 8:00 am or on any of the days from 3:15 - 4:00.
We are also holding a preview and breakfast event for teachers on Monday, November 14. If you would like to volunteer your time for the book fair or breakfast or help by making a food donation for the breakfast, please sign-up here.
This year, we have an additional payment option. In addition to cash, checks, or credit cards, parents can set up a digital payment account (eWallet) for worry-free, cash-free purchases.
If you can't make it to the Fair, you can also shop at our school's Online Book Fair. All orders will be shipped directly to your home, and shipping is free for book orders over $25. Online orders will also benefit our school.
For more information about eWallet and online shopping, please visit our Book Fair Homepage.
If you have any questions about the Scholastic Book Fair, please contact Marnie Arnold, Media Specialist, at marniea@psdschools.org or 970-488-5462.